OPINION: Saraki Vs Tinubu Comparison: Why Overrate Bukola Saraki? By Solomon Tonye
Date: 2015-06-27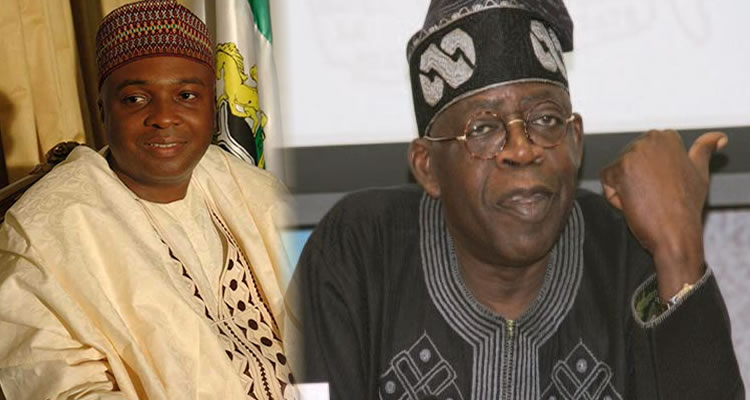 I read an article on Nairaland that drew comparison between Senate President Bukola Saraki and Asiwaju Bola Ahmed Tinubu. Being a pro-PDP commentator and a campaigner for Saraki's Senate Presidency, some may expect me to naturally be on the side of the Saraki. But this will not be so because I can't live in self deception.
Yes, Bola Tinubu was a Senator, two term Governor of Lagos state and political godfather of the state. Saraki on the other hand is the incumbent SP, a two term Governor of Kwara state and the political godfather of the state. However, there are more to this.
Senator Bola Tinubu
For those that aren't aware, Bola Tinubu rise to power as Lagos state governor in 1999 was associated with his 1993 democratic struggle against IBB first and later Sani Abacha. The AD 1999 contest was direct struggle between the favored late engineer Funso Williams and the political activist Bola Tinubu. Tinubu as at then had little political structure but somehow beat the late engineer to the AD ticket. In 2003 he somehow outsmarted some Afenifere leaders of the Alliance for Democracy (AD) and got re-elected, all other five AD incumbent governors bowed to the power of PDP. He consolidated his hold on power by dismantling the existing Afenifere structure in the party by forming the Action Congress in 2006 with the absorption of two mushroom parties-Justice party(JP) and Advance Congress of Democrats (ACD). His leaving AD crumbled the party forever.
In 2006 Bola Tinubu led AC gave embattled Vice President Atiku Abubakar a political lifeline after the Turaki Alhaji was whipped to size by then President Olusegun Obasanjo. Atiku had to defect to AC along with his loyalist Governor of Adamawa state Mr Boni Haruna. Also to defect were Chief Audu Ogbeh former National Chairman of PDP from Benue state. During the 2007 election run-up, Tinubu media tried to polish Atiku's image to counter the negative image from the FG as Atiku was the AC Presidential candidate for 2007. Though Atiku won Lagos state in a landslide thanks to Tinubu structure, he lost Adamawa state (his home state) to Muhammadu Buhari. Atiku's AC candidate for the Adamawa guber election also lost woefully to PDP's Admiral Nyako.
In the run-up to 2007 general election, there was a major shakes in the Lagos state chapter of AC. Tinubu had "imposed" his unknown Chief of Staff Raji Fashola as his party's governorship candidate over heavyweights like Senator Tokunbo Afikuyomi, Mr Jimi Agbaje, Hon Ganiyu Solomon, Dep Gov Femi Pedro etc. Jimi left to fly the flag of DPA, Pedro was given the flag of LP, Afikuyomi was given the ANPP flag(he later returned to AC on election eve) while Solomon was compensated with a Senatoral ticket of AC. Tinubu's AC still managed to win the Guber and all Senate seats. The unknown Raji Fashola became Governor courtesy Tinubu. Not just that, Bola Tinubu deployed his loyalists Rauf Aregbesola to Osun state to unseat incumbent Olagunsoye Oyinlola of PDP. Fayemi was also deployed to Ekiti state where he defeated Segun Oni (credit to Ayo Fayose support). It was Tinubu legal machinery led by Yemi Osinbajo that fought to help LP's Rahman Mimiko to unseat PDP's Segun Agagu. Adams Oshiomole had to seek refuge in AC in 2007 when he saw that the LP can't help him dislodge PDP from Edo Government house.
The 2010 Atiku's exit of AC gave Tinibu a major setback. Nevertheless, his AC/ACN managed to sweep all SW states but Ondo state and also got a Senatorial seat from PDP's stronghold-Benue state in the 2011 election. As at today, Bola Tinubu controls the APC structure in the entire South except Rivers and Imo states.
In his political sojourn, Bola Tinubu has churned out prominent names like Sen Musliu Obanikoro (a former ally and Commissioner under Tinubu), Raji Fashola (a former governor that rode to power via Tinubu's benevolence), Rauf Aregbesola (Incumbent Governor of Osun state), Kayode Fayemi (defeated exGovernor of Ekiti state), and even VP Yemi Osinbajo is in power thanks to Tinubu.
Senator Bukola Saraki:
Saraki was a "mere" appointee of Obasanjo prior to the 2003 Governorship election. He won the PDP primaries courtesy Oloye Olusola Saraki, his father and political godfather of Kwara state. He was to be elected as Kwara state governor not on his own but solely on his father. His father had installed then Governor Lawal in 1999 and replaced him him Bukola in 2003. In 2010 Saraki declared for President. He along with IBB and Atiku Abubakar were the Northern PDP aspirants that sought to unseat President Jonathan in 2011. In same 2010 a Northern caucus within the PDP called for a consensus Northern candidate among the three northern aspirants. Atiku defeated Saraki and IBB to be the northern candidate for the PdP. Saraki pledged his allegiance to Atiku during the PDP Presidential primaries for 2011 election but Atiku lost WOEFULLY to incumbent Goodluck Jonathan. Saraki couldn't even influence other North Central PDP caucus apart from his Kwara to vote Atiku.

In 2011 Saraki's father wanted Bukola to go to Senate but Gbemi his daughter to become Governor. Saraki however had Abdulfattah Ahmed in mind. The truth is Saraki and his father played a fast one on Kwara people. The ACN candidate Muhammed Balgore was gaining momentum, Saraki's father had to play the Gbemi card by forming ACPN to confuse the electorates and split the ACN's vote. In fact, on June 5, 2011 just 8 days after Gov Ahmed was inaugurated , Olusola Saraki and Bukola Saraki "re-united" after Bukola "begged", the PDP and Pa Saraki ACPN merged as one BIG Family. Pa Olusola Saraki was again affirmed to be the leader of PDP in Kwara. Saraki and his sister Gbemi were to play the same trick in 2015. How? Gbemi remained in PDP after Saraki moved to APC in 2013. She caused lots of troubles and had her faction and then dumped PDP to APC on the eve of 2015 Presidential election after deliberately destroyed the party from within.

Saraki's ascension to Senate Presidency is not due to the political commando of Saraki but because he had to bend to PDP's compromise and also because PDP needed to neutralise APC's proposed structure. It would have infact been the reverse if Saraki was APC candidate and Lawan was the rebel. Also note that the power and influence of the Senate President starts and ends inside the Senate Chamber and the occupant's Senatorial district. In fact, Senators may elect to kick him out if he bites more than he can chew. Also looking at Saraki, with exception of Governor Ahmed I don't think Saraki can boast of any influential loyalist. Even Ahmed is not a force of influence among Governors like we have Rochas of Imo, Wike of Rivers, Amosun of Ogun, Ajimobi of Oyo, Fayose of Ekiti, Oshiomole of Edo, Shetimma of Borno, Obiano of Anambra etc.

Comparing Bola Ahmed Tinubu political influence with that of Bukola Saraki is like comparing an Eagle with a tse-tse fly simply because both have wings. Saraki's sycophant should not make him believe that he rose to SP seat on his own.

CAVEAT: This article is purely on the political influence of both men. It is not an endorsement of either party nor a statement of sainthood.
Solomon Tonye tweets with the handle @SolomonTonye