Opinion - Omolewa: Governor's Wife, Citizens' Mother...
Date: 2013-06-08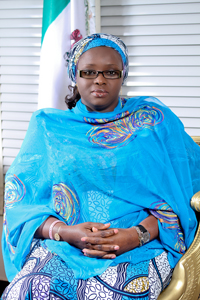 By Fatima Abubakre
Through her Live Empowered Anchors Hope (LEAH) Charity Foundation, the first lady of Kwara State, Mrs. Omolewa Ahmed, has impacted on many lives positively. She is concerned about the wellbeing of the young and elderly as her programmes go to show.
She is passionate about the welfare of others, not just because she happens to be the wife of the Kwara State Governor, Abdulfatah Ahmed, no. She is an amiable person who lives her life with great humility, selflessness and her kindness to people knows no bounds. She has this reassuring smile that makes all those around her feel special and loved.
Meet Omolewa Ahmed, the first lady of Kwara State who has impacted on many lives positively young and old, educated and illiterate, weak or strong through her Live Empowered Anchors Hope (LEAH) Charity Foundation. For this Ibadan, Oyo State-born lady, touching lives is paramount whether in office or out of office. Before occupying the office of the first lady of Kwara State two years ago, Omolewa had been known for compassion towards the poor and the less-privileged in the society. "I have so much in me to do for my people; I pray that I will be able to give all that I can without constraints, financially or otherwise," she says.
In a bid to give succour to the hopeless, the LEAH Charity Foundation through its Clinic-on-Wheels and Sight Restoration Scheme has successfully conducted free eye surgeries for citizens of Kwara State. About 100 patients; 48 children and 52 adults have benefited from the scheme, which is in collaboration with the Sight Savers International. Sight impairments caused by cataract were corrected through free eyeglasses, drugs and surgeries.
Mrs. Omolewa declares: "Most of these sight- related problems were first diagnosed during the clinic-on-wheels outings in our market places and rural areas.† It is usually during diagnosis that people with serious eye problems are discovered and referrals were made for those in need of surgery to Kwara State Specialist Hospital, Sobi, in collaboration with the Sight Savers International, with specialist doctors in attendance. The surgeries involved the removal of the clouded lens and replacing it with a clear, artificial one."
Currently, Mrs. Ahmed is engrossed with tackling the scourge of breast and cervical cancer among women in the state through a collaborative effort with the Medical Women Association to screen women above 30 years of age.
"What is most painful about these deaths is that quite a number of them are avoidable. At least, we are sure that deaths from cervical and breast cancer can be avoided if detected early and the only way to catch any form of cancer or ailment is through regular voluntary screening after which medical treatment can now be sought," she notes, adding, "let us work together to see that no woman dies a death that we can prevent by encouraging each other to go for screening."
Notwithstanding these contributions, Omolewa is quick to point out that no government can meet all the needs of its citizens and therefore, the onus is on philanthropists and public-spirited individuals and corporate bodies to contribute their quota positively to the upliftment of the living standard of citizens, particularly persons with disabilities.
As a mother, she condemns child trafficking, child labour and abuse, especially in Africa, as she submits: "We are concerned about the future of our children because we believe that grooming them today will ensure a better society that we all crave for tomorrow."
A lover of books and an advocate of reviving the reading culture among students, she quotes Jim Rohn, "The difference between where you are today and where you will be five years from now will be found in the quality of books you have read."
Born into the family of Mr. and Mrs. Adebayo Akinleye, young Omolewa had her early education at the University of Ibadan Staff School and later attended Victory Nursery and Primary School, Ibadan. She also attended Saint Teresa's College Ibadan for her Secondary School education. She obtained an Ordinary National Diploma (OND) in Banking and Finance in 1992 at the Kwara State Polytechnic, Ilorin, and a Higher National Diploma (HND) in the same discipline from the Kano State Polytechnic in 1997.
She underwent her National Youth Service Corps in Kano, serving with the Central Bank of Nigeria, Kano from 1997 to 1998 after which she proceeded to Bayero State University, Kano obtaining a Postgraduate Diploma in Banking and Finance in 1999.