Kwara 2015: Why Gov. Ahmed will not be re-elected - Ajibola, PDP guber candidate
Date: 2015-03-30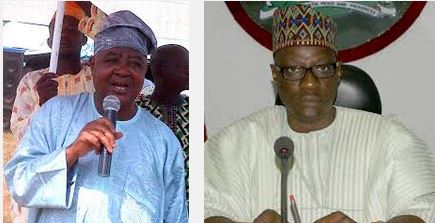 Senator Simeon Sule Ajibola, three-term member of the Senate, is a foundation member of the PDP in Kwara State. He is the party's governorship candidate in the state for the April 11 election. He speaks, in this interview, on his chances and other contentious issues in Kwara politics.
POLITICAL CLASHES
It is unfortunate and it is quite disturbing that politics is becoming a do-or-die business in the State of Harmony. It shouldn't be so. We, the leaders, have a duty to rein in our followers. We do not have to kill, maim or destroy houses to win elections. With all sense of responsibility, I say that the APC is the aggressor in all political disturbances recorded recently in Kwara State. You can cross check from the various security agencies. We know that they are jittery; they cannot imagine facing defeat at the polls and becoming the opposition party. But that is what majority of Kwarans want and they have seen the handwriting on the wall. Let me give an instance. The APC has made much noise on the disturbance at Isapa, my home town. The information I have is that one of the governor's aides engineered the crisis. He allegedly arranged some thugs to attack the homes and vehicles of members of PDP a few hours before the arrival of the APC campaign team.
At Kaima, our opponents were disturbed by the large crowd that trooped out to attend our rally. Immediately we left, they started vandalizing our billboards and attacked the homes of PDP leaders. Of course, our members were forced to defend themselves. There are several instances of intolerance bordering on loss of popularity in the APC camp. We can only appeal to their leaders to call their followers to order. On our part, we are fully committed to peaceful electioneering campaign and rancor-free elections.
DISCONTENT IN THE PDP
Let me admit that there were initial misgivings in my party after my emergence as the governorship candidate in Kwara State. But that is the nature of democracy and those misconceptions have been corrected largely through information sharing and the spirit of reconciliation. I think PDP leaders at the state and federal levels have come to the reality of the situation. The primary was very free and fair. The delegates were resolute in their choice even if the margins among the three top aspirants were very close. In all political contests, one person must emerge; and the winner happened to be a strong party member, one who was a foundation member as well as a loyal financial member of the PDP.
A lot of reconciliation has taken place. We have tried to make our campaign an all-inclusive affair. Nobody is left out-we are all winners for the PDP because the task ahead is enormous.
AJIBOLA CANNOT WIN ELECTION/ NOT POPULAR AT HOME
That has turned out to be an idle talk. It was a mischievous propaganda by those who chose to whip up religious and ethnic sentiments. But we have gone past that now. Kwarans are very discerning and they are politically sophisticated. Religion has never been a factor in electing political leaders in our state. Even Dr. Olusola Saraki, may Allah bless his soul, never played politics on the basis of religion. He was very calculative and will never go against the popular wish of the people. So, those who said I cannot win the governorship election for PDP are myopic in their thinking and analysis.
Poverty does not discriminate on the basis of religion. Good governance, transparency and accountability have nothing to do with your faith. If you are crooked in your thinking or a kleptomaniac, what has religion got to do with that? Kwarans have had Moslem and Christian governors. They will assess each one based on his performance.
One of our governors who performed in office is the late George Innih. He was a Christian and a non-Kwaran. We remember him with nostalgia. One of his enduring legacies is the Ilorin Stadium Complex that has been run down completely. Let the present government mention one project that is serving the interest of Kwarans. I can't find any!
When they say Ajibola cannot win election, I chuckle. My response is to describe those people as mischievous or lacking a sense of history. In 1994, I won election to represent my zone at the National Constitutional Conference. In 1998, I performed the same feat in the senatorial election defeating the candidate backed by Dr. Saraki during the aborted transition programme of the Abacha government.
In 2003, I was affirmed winner of the same seat after a protracted battle in court. And as you know, I was re-elected in 2007 and 2011. With this brief summary on my political journey, those who ignore Ajibola can only do so at their own peril.
RIDING ON SARAKI'S BACK
It is a warped logic that I rode on Baba Saraki's back to win elections. I just told you that I cut my political teeth, literally, so to say, in 1994 when I won my first election to the National Constitutional Conference. In that election and when I contested for the Senate seat under UNCP in 1998, I defeated the Saraki machinery. It was only in 2003 that Dr. Saraki and I worked in the same political camp. So it is warped logic to insinuate that Baba Saraki made me a politician. Facts of history do not support that assertion.
PERFORMANCE AS A SENATOR
In the political history of Kwara, I am the only lawmaker, and I don't know of any other politician, who has published his achievements in a booklet. With all modesty, I think we have performed creditably; but more important is that we have been accountable to our people. As a senator, I have touched all the constituent parts of my zone comprising seven local governments. We can proudly list projects in education, water supply, rural electrification, road construction, skill acquisition and empowerment, social welfare and social development, contributions to community development and support to my party. In all areas of endeavor, we have something to point to including pilgrimage to Mecca and Jerusalem.
WINNING FORMULA AGAINST AN INCUMBENT
You remember that those occupying the Government House now actually 'hijacked' our mandate. The mandate they exercise now was given to the PDP at the 2011 elections. Unfortunately, this governor has underperformed and that gives us a good campaign message to the electorate. Tell me one project that the present government in Kwara has inaugurated apart from the existing general hospitals that were refurbished. The only project they flaunt—the Vocation and Skill Acquisition Centre at Ajasse-Ipo, is yet to admit one trainee. There is no doubt that Kwarans are yearning for a change; they truly want freedom and a government that serves the interest of the people. All we need do is re-assure the electorate and harvest the goodwill all around the state. From the reception we got while campaigning in most local communities, PDP is the party to beat in Kwara State.
PROMISE TO KWARANS
We promise all Kwarans good governance; we promise participatory democracy, accountability and a government with a human face. The PDP has rolled out a five-point development agenda for Kwara State. These are aggressive agricultural and rural development; affordable and accessible health services; qualitative education; massive youth employment, women empowerment and social security for the aged; provision of solid infrastructural base including housing for all, good road networks, water supply and rural electrification.