COED Ilorin inducts 103 into teaching profession
Date: 2014-03-10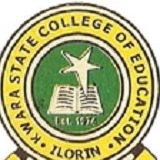 The Kwara State College of Education, IIorin has inducted 103 students from various disciplines into the teaching profession.
The graduands who underwent a 12-month course were awarded Professional Diploma in Education by the college for 2011/2012 and 2012/2013 academic sessions.
Inductees for the year 2011/1012 English Medium were 60, while the 2012/2013 inductees of English Medium were 36. The inductees for Arabic Medium for the later academic session were also seven in number.
Speaking at the induction ceremony, the Provost of the college, Dr. Isiaka Saka Opobiyi, said the college began an induction programme because Resource Assessment Team of the Teachers Registration Council of Nigeria (TRCN) had given a nod for the commencement of the programme.
Opobiyi said the college was making judicious use of its man power and material resources to train students to be worth in both learning and character.
The provost said the inductees have undergone courses in education which qualified them to be professional teachers.
He said the internet services at the college have been upgraded to serve the students in the areas of research and ICT.
He urged the graduating students to be good ambassadors of the college, TRCN and the nation at large by exhibiting sound education and high discipline which the college had imparted in them.
In his remark, the Registrar of the Teachers Registration Council of Nigeria (TRCN), Prof. Addisson Wokocha, said induction exercise was part of statutory responsibilities of TRCN in the area of registration and induction of graduating students.
Represented by a Deputy Director at TRCN, Alhaji Roni Ibrahim advised the new teachers to be good ambassador of the college, teaching profession and the nation at large in the teaching profession.
He said TRCN has put mechanism in place to checkmate professional misconducts and to prosecute offenders in the teaching profession.
In her paper entitled "Professionalism and Teacher Productivity: An overview", Mrs. Opadokun Olufunke Adeitan highlighted various tips on how to be a professional teacher, stressing the need for teachers to be professionally trained.
She added that teaching profession requires intensive academic and professional preparation for them to be more productive.
Some of the inductees who spoke with The Herald said they were highly delighted to join the teaching profession, even as they thanked the college for giving them the opportunity.