Entertainment: Jelili, my most challenging role ever - Femi Adebayo
Date: 2012-07-20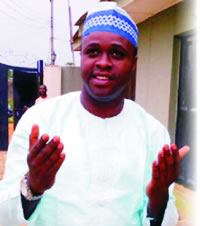 Abdul Lateef Femi Adebayo is a household name in the movie industry. Having featured in many movies, 'Jelili' , as he is now fondly called, shares his life experiences in the movie industry in this chat with Doyin Adeoye.
Who is Femi Adebayo?
My name is Femi Adebayo, while some people call me Jelili. Femi Adebayo is a practicing Muslim. I'm married with kids, a beautiful daughter and a set of twin boys. I'm from Ilorin in Kwara State.

Tell us about your early years
Well, I had my secondary school education in Ilorin before I proceeded to the University of Ilorin, where I studied law. I was called to the Nigerian Bar as a lawyer in 2003 and proceeded for my masters in law degree at the University of Ibadan in 2006.

At what point did you discover your talent?
I'd say 1995, because all along, with the stage plays and all, I felt I was catching my fun and acting to me then, was just a hobby. But it was in 1995 that they attached so much importance to the talent I've got, then I realized I've got a talent in me to show to the entire
world.
What was the first major role you played in a movie?
That was Wole Owolabi junior in the Tade Ogidan movie; Owo Blow. The movie brought me into limelight

Most challenging role you played so far in the course of your career?
(Laughs) it's the character, Jelili that I played in my own movie.

And what made it challenging?
Challenging because I've never played that kind of role before and I intentionally wrote the script to challenge myself. And after playing that role, I realized that there is no role I cannot interpret. And to God be the glory, I'm working on a project now that is even more challenging than Jelili, and that is Owala and I'm sure by the grace of God, I'll do it well and my fans will appreciate it more than they appreciated Jelili.

Who is the best colleague you've ever worked with?
Most of the people I work with are very good, so I cannot particularly say that this is the best colleague I've worked with.

How have you been able to brand yourself in the movie industry?
I'd say probably because of the level of education, with a masters degree in law, I try to carve a niche for myself. So all I do is to ensure that things are done properly and today I thank God, alhamdullilahi, for my stance in the industry.

Worst rumor you've ever heard about yourself?
Well, the worst rumor that got to me was the fact that I was alleged that I dated somebody that I did not date and to God be the glory, recently everybody could see the fact that I did not date the girl.

And how were you able to manage the rumor and subsequent ones?
I'm a very lucky chap, one of the luckiest because I have a reference in this industry, my father is a very popular actor, Adebayo Salami (Oga Bello), so that is my major reference. Whenever I have any issue as to managing my fame, I run to him and he advices me on how to go about it.

What are the challenges facing the industry at large?
Well, the major challenge at hand is the piracy, and we also lack government support. If these two issues are addressed, then I'm sure we'll be very good.

What can't you do without at the moment?
I can't do without acting. It is part of me; I act all the time, when I'm on set or out of set. I drink acting, I sleep acting, I eat acting, I romance acting. It's all about acting for me.

If you weren't into movies, what would you have delved into?
I would have been a politician because I like to be a good leader, I lead people and they appreciate it. I think I've got the qualities of a good leader, and that might actually take me into politics in some year's time. Maybe.

Tell us about your fashion sense
I'm an African man, I wear anything that suits me.

Perfumes?
I'm not restricted, when I travel abroad, I pick up a perfume that has a nice fragrance and use it.

Tell us a little bit about your school
J15 School of Performing Arts is a subsidiary of the J15 Media Network which is my company. The school gives young people opportunity to develop the talents they have. What inspired the name of the school was the date of birth of my beautiful daughter, Fridaos Adebayo which on July 15, and it's a date I don't want to ever forget in my life. And we have about the fourth set now.
Any words for upcoming artistes?
I'd advice them to keep calm, be honest and hardworking, and they would get there.

Any last words for the fans?
I love you so much, you're my fuel and you're my fertilizer. If you are not there, I cannot germinate. I appreciate you all and I am grateful for the love.