Roll call of dignitaries as Gov Ahmed buries mother in-law
Date: 2016-07-25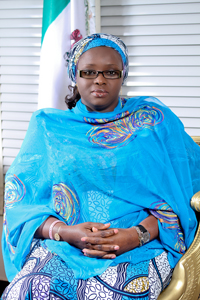 It was a roll call of who is who as the Kwara State Governor, Alhaji Abdulfatah Ahmed buried his mother in-law in the far away Ibadan, the largest city in West Africa and capital of Oyo State.
Representative of the wife of the President, Hajia Aisha Buhari and the wife of the former Chief of Army Staff, Hajia Maryam Salihu Ibrahim and wife of the Senate President, Barrister Toyin Saraki were among dignitaries that graced the occasion. Others in attendance included; wives of Governors of Osun, Oyo, Ogun, Zamfara, Sokoto, Kogi, Edo, wife of former governors of Lagos and Osun States and former Deputy Governor of Lagos state.
Some other dignitaries at the event included the Kwara State Deputy Governor, Elder Peter Kisira; Speaker, Kwara State House of Assembly; former Minister of Sports, Alhaji Bolaji Abdullahi; former Governor, Osun State, Olagunsoye Oyinlola; former Oyo Deputy Governor, Taofeeq Arapaja.
Some members of the National Assembly, state executive council, Local Government Chairmen and top government functionaries including Permanent Secretary, Ministry of Information, Dr. Rhoda Ajiboye; her counterparts in the Ministry of Works, Alhaji Amuda Alabi and General Services, Governor's Office Alhaji A. R. Ayinla.
Others were executives of the All Progressives Congress (APC) Kwara chapter, General Managers of parastatals including the General Manager, The Herald Newspapers, Alhaji Abdulrazaq Adebayo, the General Manager, Radio Kwara, Alhaji Abdulateef Adebowale Adedeji, the General Manager, KWASSA, Alhaji Ahmed Olufadi, General Manager, KWARMA, Engineer Baba Jibril, friends and family of the late Mrs. Janet Monilola Akinleye.
Bodija Estate Baptist Church, Ibadan, venue of the funeral and outing services for late mother of wife of the Kwara State Governor, Mrs. Janet Monilola Akinleye was filled to capacity with these dignitaries who came from far and near. In his remark, Kwara State Governor, Alhaji Abdulfatah Ahmed charged the family to let the way of life of the late Mrs. Akinleye be their guiding principle.
The governor said the deceased lived a fulfilled life and charged the family not to mourn but celebrate her good life. Governor Ahmed also prayed God to continue to guide those she left behind on the straight path.
Earlier in his sermon, officiating minister, Reverend Olu Olajide charged people to shun worldly affairs and be more concerned about the day of reckoning. He charged those in position of authority to learn from those who were no longer in power to understand the vanity of life.
Reverend Olajide urged them not to abuse the privilege God had given them and to remember no soul shall take anything to heaven when death comes. The remains of the deceased was later committed to mother earth in Oba cemetery in the suburb of Ibadan amidst wails and tears.