OPINION: Buhari: Between Political Affinity And National Rebirth. By Abdulqadir Ibrahim Abikan
Date: 2015-09-12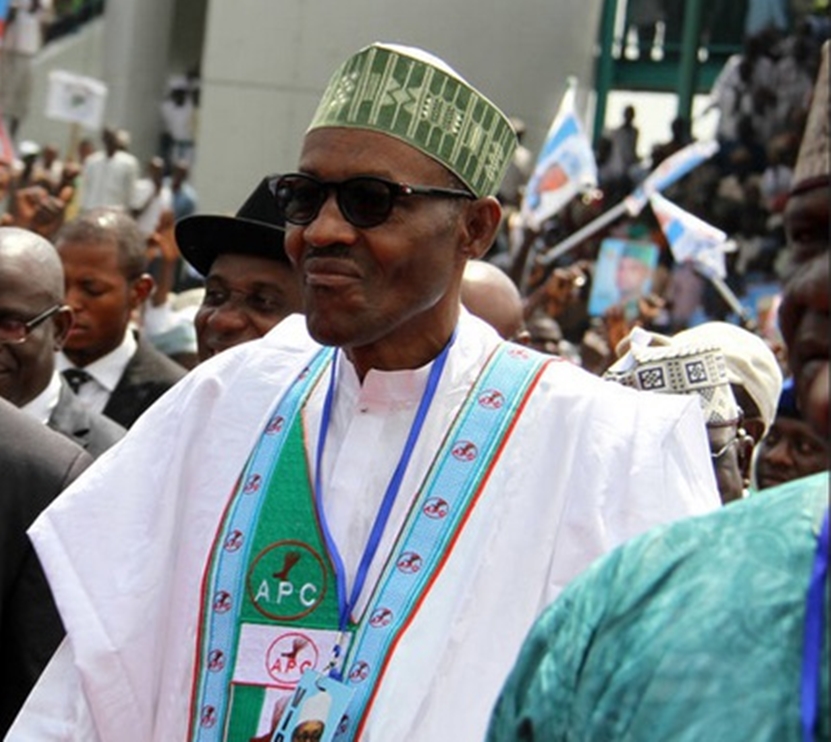 When President Muhammadu Buhari (PMB) was weeping for Nigeria shortly after the 2011 general elections, only a very few citizens appreciated the level of rot in the governance of the nation at that time and his benefit of hindsight on the degenerate we were to experience for another four years.
Meanwhile, if anyone is still in doubt about the vision and preparedness of PMB and of course, his capability and tenacity to turn the fortunes of this potentially great but corruption-ridden nation around for better, such person would rather belong to the group referred to by Dr. Onuorah Obodozie either as election contractors or Citizens Against Virtually Everything (CAVE-men). The former group, according to the author of "Strange Bedfellows: Buhari should be vigilant" finances elections for contracts and oil block/theft rewards, yet sponsors the latter to malign and distract the administrations in preparation for sponsorship of the next elections in a vicious circle that perpetrate bad governance and impoverish the majority by a negligible minority. Little wonder that some patrons of these groups are reported to have started positioning themselves for 2019 elections before the take-off of PMB;s administration.
The few decisions taken by the president since his inauguration on 29 May 2015 are certainly forcing the various strange bedfellows to change their strategies. He showed a sense of justice and gender sensitivity in the appointment of the erstwhile INEC Chairperson and SSA on National Assembly Matters, I shall return to the appointments and criticism thereof shortly. He exhibited a sense of fairness and revived professionalism in his appointment of service chiefs. His presidential directives on the cleaning of Niger Delta show that he really belongs to everybody, while his matured way of handling the National Assembly mess shows that he belongs to nobody. His swift restructuring of the NNPC was a master piece for economic revamp, not just conceived when he assumed office. His diplomatic dimension to the fight against Boko Haram is closing-up on the religious fraudsters. His Spartan discipline and zero tolerance for corruption have positive economic implication as well as laundering of our battered national image.
Nigerians resident in the country may not appreciate what good national image portends as much as those in diaspora. The latter group faces daily embarrassment at international airports embassies and other countries, even within Africa, where they were treated like potential criminals as a result of the actions/inactions of our past leaders. The experience of an elderly colleague from Benue state underscores what it feels like for one's nation to be respected internationally. I met the fellow on my academic sojourn to Universiti Brunei Darussalam as a Visiting Lecturer in 2006. He told a story of how the happiest thing that happened to him, back in the 80s, was regaining of our national pride. Coincidentally, it was the era of PMB as military Head of State. An American professor, who was a friend to his supervisor as a Ph. D student then, just returned from Nigeria and congratulated him in front of his supervisor about sign of greatness shown by his country. The sign was JUST the national exhibition of a sense of discipline reflected in citizens queuing-up and taking their turns at public places. The colleague tested the water by sending a golden-wrist-watch to his sister via ordinary post and it was delivered INTACT! For crying out loud, INDISCIPLINE, which permeates both the private and public lives of Nigerians, is worse than corruption being fought.
POLITICAL APPOINTMENTS
As PMB is busy finalizing his ministerial and other political appointment list, it is expedient to remind him of some salient facts which distinguish his task from that of the previous administrations. Unlike previously when political party affiliations and in few occasions, ethno-religious sensibility were the primary considerations in appointments, PMB has a nobler consideration which is appointment of people of impeccable credibility in addition to or regardless of those other considerations. The criticism of ethnic tilt in the appointments made so far is very potent, yet, the objective critics other than CAVE-men would trust in the assurance given by the presidency that at the end of the day, ethnic balancing will be attained. After all, a strong base of the president's acclaimed integrity is that, he is a man of his words. However, the earlier the politicians, especially members of PMB ruling APC realize that the appointments would be based on those other considerations too, the better for all of us. Otherwise, they would become anonymous members of the opposition within their party, as being reported by the press.
It is amazing that none of the critics whose views I have read, has faulted the credibility of the people appointed so far and a very few commentators has appreciated the sense of belonging the appointment of minorities within the north would bring to the PMB's National Rebirth Project (NRP). It is expected that this near perfect selection would be reflected in the appointments from other geo-political zones.
NATIONAL REBIRTH AND THE YOUTH
Like George Washington of the USA, Dr. Mahathir of Malaysia, Lee Kuan Yew of Singapore, Mahatma K. Gandhi of India and Nelson Mandela of South Africa, amongst others, who are fathers of their respective modern nations, providence has, once again, foisted the task of NRP on PMB. The opportunity came at a time when all hopes were almost lost, except for those among us who are die-hard optimist and ardent believers in constancy of change. The NRP requires PMB to give Nigerians good governance, being the highest expectation of the masses that voted him to power, and places the arduous task of grooming a new generation of visionary, committed, disciplined and sincere leaders on him. This group, to be comprised of young men and women of integrity, brain, energy and passion to serve, should be selected from all parts of the country to serve in PMB's cabinet and boards of government agencies and parastatals. They should be given significant quota in government and be made to understudy the older ones now being invited on the basis of their past records. Their selection should not be through the usual party nomination but assurance of their credibility by respectable leaders of various communities. After all, the likes of PMB himself, General Yakubu Gowon (GCFR), Justice M. L. Uwais (CJN Rtd.); and late Sir Abubakar Tafawa Balewa, Jutice Saidu Kawu (JSC), Mr. J. F. Awoniyi, Mallam Aminu Kano were, according to M. Inuwa Mora in his 'New Foundation: Preparing the Future Leaders", products of similar efforts by the former Northern Nigerian Government.
President Olusegun Obasanjo (OBJ) started similar project which produced the likes of Mallam Nuhu Ribadu and Nasir El-Rufai and other young technocrats but the effort did not result in national rebirth probably because it was not a conscientious one and certainly, in part, because of partisanship. Otherwise, OBJ should have put a more credible electoral process in place, which would have produced PMB earlier, rather than ensuring that his party won elections as a matter of 'do or die'. There is a great lesson for PMB in that mistake.
THE ANTI-CORRUPTION WAR
No doubt, the double pronged war simultaneously declared by PMB, war against Boko Haram and war against corruption, is a difficult one. Another war which is greater than the two and requiring equal confrontation is war against indiscipline. Nonetheless, they are all winnable wars and PMB's antecedents make him to appear as being preserved by God to this point to fight the wars and put Nigeria back on the track of her destined greatness. He had fought each of these wars in his first coming and won. He stamped out Maitatsine and its network in the north, he made public office holders accountable for their corrupt practices and the acronym WAI still remain green in the memories of those alive in the 80s.
The corruption situation in Singapore before late Lee Kuan Yew became the Prime Minister in 1965 was a replica of our current situation that the graphic presentation in his "From Third World to First" makes a reader thinks he is reading about Nigeria. Few of his winning strategies would therefore be of help for our situation. I also share his views that democracy does not necessarily lead to development. What a country needs to develop is discipline more than democracy.
Contrary to the widely published claim by a supposed anti-corruption flag bearer that stealing is different from corruption, our anti-corruption laws should be amended to widen the definition of corruption to cover theft and gratuity in anything that has value. Wives, children and cronies of corrupt officers should also be made liable to investigation and prosecution. Our courts should be empowered to accept proof of living beyond means and ownership of property disproportionate to the income as evidence of gratification. There is also the need to restructure the anti-corruption agencies in terms of their composition and powers. They should be backed by law and political will to investigate and prosecute every political office holder with or without petition. The current leadership and management of the agencies need to be restructured. The simple logic is: it is impossible to operate the agencies in the past few years without noticing or taking action on the magnitude of corruption in governance as are being revealed now except the managers too are corrupt. The last time we heard of the anti-corruption managers reporting attempt by politicians to bribe them was during Mallam Nuhu Ribadu's tenure.
PMB should not expect that corruption and other opponents in those other wars would not fight back especially the "very powerful Nigerian", if only to protect their loot. A number of them who do not share his views on accountability and good governance have struggled by all means to attain high political offices where it will be possible for them to frustrate the president's efforts. Those powers that truncated his earlier efforts to cover their corrupt tracks are still potent. Those that attempted to kill him before elections are still around, at least, there is no report of their arrest. Given his military background therefore, frustrating his efforts through democratic means could be more lethal than military takeover.
NATIONAL REORIENTATION
Between 1985 when PMB's military government was overthrown and now, Nigeria has gone through an unprecedented level of social degenerate. Our value system has dropped to the lowest ebb. All that matters to almost everybody is wealth and riches. There is not as much hope in education for better future of our youths as in being a political thug, who is automatically put on government payroll with other life amenities, while a Ph.D holders are still roaming the streets, looking for jobs that do not exist. Rather than committing suicide like Chinese or Singaporean serving minister who felt depressed by the shame of disappointing his country for act of corruption, our politicians arraigned before the courts for corruption would smile and wave hands to their teaming beneficiaries in front of the camera. What could better describe a situation where serving federal and state legislators abandon their jobs, paid for through tax payer monies, for hours, only to accompany an individual invited for questioning by anti-corruption agency? It is a situation of utter shamelessness and highest level of moral decadence. Little wonder, PMB is having sleepless nights before getting credible people to serve in his cabinet. What of the reported case of the difficulty in getting incorruptible judges to try corrupt politicians?
PMB's government should be concerned about this situation and set policies in motion to reverse them, if only to make his NRP sustainable. A proverb among the Yorubas say: "Omo tao ko yio gbe Ile ti ako ta", roughly translated as: an 'unconstructed' (untrained) child will sell-off the family house constructed by his father. As was done during his first War Against Indiscipline (WAI), our National Orientation Agency (NOA) or whatever name it would bear in the restructuring of ministries should be put to task on this. The simple truth is, very few of the Nigerian youths who constitute the majority of our population have lived to experience public decency, moral probity, selfless service, integrity, good governance, dignity of labor, love for, hope and belief in the country and her leaders, good neighbourliness, ethno-religious tolerance, efficient public service, beauty of student life, respect for knowledge and teachers, purity of farmers lives, contentment of and empathy for the less privileged, love NOT envy for the privileged, hard work, patience and sacrifice. These are some of the values we used to be known for and which must be revived for a sustainable new Nigeria. Achieving these transcend political party affinities, they require all hands to be on deck.
CONCLUSION
God in His love for Nigeria has given us opportunity of National Rebirth. The chosen forerunner of that rebirth is destined to be PMB, who went through thick and thin to have a second bite at the cherry in the governance of the country. He was elected on the platform of APC but his task of redirecting us to the lost track of our destined greatness by fighting indiscipline, corruption and insurgency is beyond party affinities. On the one front, the war is between him and the masses on one side and the looters and ruling oligarchy many of whom, incidentally, are members of his party and other parties and are presently occupying high political offices on the other side. On another front, it is a war of self-cleansing for which he is still required to provide leadership. This war requires every Nigerian to make efforts because we cannot expect to enjoy the fruit of effort without first making the effort. A new, virile, developed, peaceful, stable and prosperous Nigeria is the fruit and the requisite effort is to change our ways by being disciplined and patient. The world does not owe us a living; we are to do it ourselves. Certainly, God will not change the situation of a people until they decide to change their ways. According to the world leading anti-corruption czar, it is easy to start off with high moral standards, strong conviction and determination to beat down corruption (as PMB is doing). But it is difficult to live up to those good intentions unless the leaders are strong and determined enough to deal with all transgressions, and without exceptions.
God help PMB and his team.
Dr. Abdulqadir Ibrahim Abikan is former President, Nigerian Association of Law Teachers and former Ag. Dean of Law, University of Ilorin