OPINION: Bukola Saraki's Emergence as Senate President: The Ethical Questions. By Abdullahi Imam Abdullahi
Date: 2015-07-06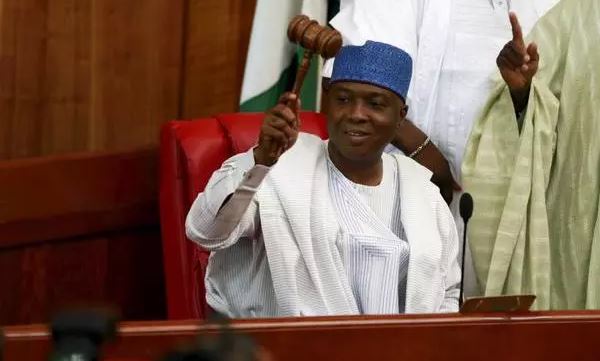 "The basic platform upon which the All Progressives Congress invited Nigerians to assess it as to its programmes and policy thrust can be summarized into two major national crises that we have – indiscipline and corruption" - Chief Ayo Opadokun
As a psychologist, it is trite that I look at Bukola Saraki's emergence as Senate President with a different lens - especially one different from most of my Ilorin compatriots.
It is an open secret that I did not favour Saraki to win the Senate Presidency mainly because based on many privileged information available to me, he is a morally depraved and an equally morally corrupt person. My intervention in a widely circulated piece days before June 9, 2015 (A day that will forever be remembered for Saraki's treachery) has been vindicated by the manner in which Bukola Saraki emerged Senate President. In the concluding paragraph of the said piece, I had stated ominously that if and when Bukola Saraki emerges Senate President, it will be a reflection of the values and character of the men and women of the red chamber. At least 57 of such men and women have shown that they are of a baser character than Bukola Saraki. 51 of them also proved they are worthy, ethically grounded Nigerians.
This is just a preamble, the main thrust of this piece is the ethical questions thrown up by Saraki's emergence and its implications on Ilorin youths.
The first ethical question for Bukola Saraki and his co-travelers is: as a parent, would you support your child or ward to come first in class by cheating so long as he/she comes first?
The second ethical question is: as a parent, would you allow your child/ward to cheat in class because evidently everyone is doing it?
The third question is: as a parent, would you be able to teach your child/ward that honesty is a virtue and cheating a vice when you are a serial cheat yourself?
These are the core ethical questions that was thrown up by Bukola Saraki's emergence. If Saraki were to answer in the affirmative, then we can safely conclude that he is an unfit parent and a hypocrite.
This leads me to my next question, what kind of parent is Bukola Saraki to his children? What kind of values is he teaching them? The biggest fallout of Saraki's ethically challenged lifestyle is its effect on impressionable young Ilorin men and women. Is Saraki suggesting that it is okay to win by all means necessary to his young admirers? That ethics and fair play do not matter? That the end would always justifies the means?
The implication of Bukola Saraki's bad behavior is minimal if it only affects his children but consequential if it has an effect on a large chunk of our youth population. This is my main concern. I am worried and I expect every conscientious Ilorin man and woman to be concerned about this issue. Saraki is simply a bad influence on our next generation of Ilorin leaders and we must rise up against this menace. We must join hands with activists who are in the struggle to emancipate Ilorin from the firm grip of Bukola Saraki.
We also need to consider another dimension to the Saraki's ethical issue. What does his behavior say about us as Ilorin people? Are we saying that we are a people without scruples? Are we saying that he is representative of our culture?
I will begin by issuing a defense of Ilorin people and her culture. We are a conscientious, morally upright people. We are not treacherous and overly ambitious. Don't take my word for it; please examine the life and times of some of our living patriarchs and those that have departed this sinful world. People like Sheikh Muhammad Kamaldeen Al-Adabby, Sheikh Adam Abdullahi Al-Ilory, Sheikh Nda Salati, Late Amuda Gobir, Major General Babatunde Hassan Dogo Idiagbon, late JSC Saidu Kawu, the first Senior Advocate from Northern Nigeria, AGF AbdulRasak, Justice Raliat Elelu, Architect Halima Tayo Alao and a host of other fine Nigerians of Ilorin extraction. These men and women are our moral compass and through them should we be judged as a people. All of these men and women that I have listed above and others who did not make the list are indigenous Ilorin people unlike Bukola Saraki who lacks roots in Ilorin and like his father before him are only using Ilorin as a springboard for their political aspiration.
A notice to fellow Nigerians, Bukola Saraki is not representative of my culture and neither is he representative of the larger Ilorin culture. He should be judged solely as an individual, a cultureless, immoral, ethically challenged individual. Bukola Saraki has not acted in my name or in the name of any other Ilorin person. I repeat, hold him accountable for his actions. Ilu Ilorin ki ise Ilu Jagidi Jagan……
Abdullahi Imam Abdullahi, Ph.D. A clinical psychologist and behavioural therapist writes from Ilorin.