Kwara, NRC differ on stoppage of Ilorin-Offa shuttle train
Date: 2012-07-31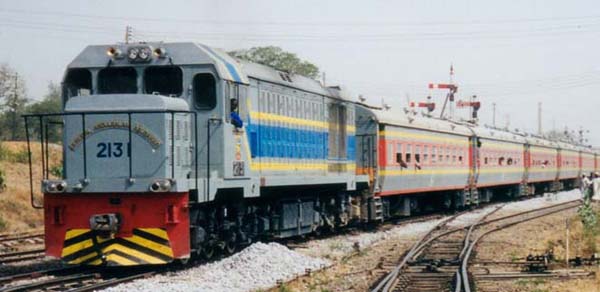 There is controversy between the Kwara State Government and the Nigerian Railway Corporation over the stoppage of the Ilorin-Offa shuttle train service.
The service which was introduced to popular acclaim last year by the NRC with huge support by the state government, stopped operation about two months ago. But while the railway corporation said it stopped the service because it could not agree with the state government on ticket prices, an official of the state government said the stoppage was due to a recent derailment of the train in Ogbondoroko in Asa local government area of the state.
A top official of the Ilorin Station of the NRC, who spoke with our reporter in anonymity because he was not authorized to speak, said at the weekend that the operation was stopped due to discrepancies between the state Government and management of the station over the price of ticket.
He stated that various interventions made to resolve the impasse were futile because government was not ready to reach compromise with the corporation on the ticket price.
He insisted that the corporation was more concerned about the comfort of passengers.
He said a meeting was held at the Lagos office of the corporation recently with top officials of the state government, but that the meeting failed to resolve the ticket issue.
''The Ilorin-Offa train mass transit was suspended due to discrepancies between the Railway Corporation and the Kwara State Government over ticket price", the official stated.
"We have held a series of meetings but they proved abortive in the settlement of the issues. What preoccupies our mind is the comfort of passengers, and not the possible increment that may result afterwards".
When Our Correspondent met with the Ilorin Station's Superintendent of Railway Corporation, one Dr. Godwin, on the issue, he said he could not talk to the press.
"The only person that can speak to you is our District Manager in Ibadan. If you can go to Ibadan you will be well attended to."
Speaking on the same issue however in a telephone chat yesterday, the Special Assistant to the State Governor on Transport. Mr. Deji Oni refuted the claims that the state government was having issues with the Railway Corporation, saying that the train mass transit service was suspended due to derailment that occurred along Ogbondoroko area.
"There were no differences between the corporation and the state government", Oni stated.
"The reason why we suspended the train shuttle from Ilorin-Offa was because of the derailment that occurred along Ogbondoroko. I  have written a memo to the governor on the issue and very soon the operation would resume again".
Culled from The Herald