Emir of Ilorin cautions Kwara monarchs against misuse of traditional titles
Date: 2016-06-02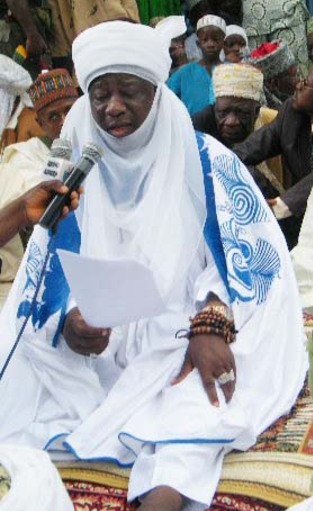 The Emir of Ilorin, Alhaji Ibrahim Sulu-Gambari, has described as sacrilegious the alleged misuse of titles by some traditional rulers in the state. According to Mallam Abdulazeez Arowona, the National Secretary of Shehu Alimi Foundation for Peace and Development, who is also the spokesman of the emir in Ilorin yesterday, the Emir of Ilorin is a highly revered monarch who has been clearly distinguished by historical accounts.
Arowona noted; "The emir has on several occasions rejected been called and addressed as Kabiyesi, His Royal Majesty, His Eminence or His Imperial Majesty. He has rather expressed preference for His Royal Highness, a title which was unanimously agreed upon by all the northern Emirs.
"While the title of 'His Eminence' belongs to the Sultan of Sokoto, His Royal Highness is for the Emir of Ilorin. It is also on record that the Shehu of Borno, the Sultan of Sokoto and the Emir of Ilorin are the three historically recognised Shehus in the North East, North West and North Central respectively.
It is therefore, an abominable act for any monarch or person under any guise to illegally claim to be called and addressed as Shehu in Kwara State." According to him: "The title''Emir' means Amirul-Muhmeneen (leader of the faithful) and this symbolizes the significant roles played by the forbearer of the Emir in person of Shehu Alimi in the propagation of Islamic jurisprudence in different parts of the country.
"Therefore, the name 'Shehu' is not by any means a mere title or hereditary and it is not a common name that can be used by any person or group of persons except for the intention of mockery of the Emir of Ilorin or the entire Ilorin Emirate Council.
"The entire public should see the title of Shehu as the personal belonging of the family of the Emir of Ilorin and must not be contested, copied, or impersonated by anybody under any guise."