Paucity of Funds Worries Ilorin College of Education
Date: 2014-01-24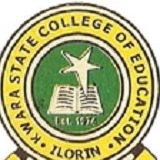 The Provost, Kwara State College of Education, Ilorin, Dr. Isiaka Saka Opobiyi, has called on the state government to provide more fund for the college in order to improve the standards of teaching and learning.
The provost made the call in Ilorin while speaking on the need to improve the standard of education in the college.
Opobiyi said teachers are the builders of a nation because they train the youths to become future leaders.
However, he said: "In training them, there are fundamental needs for educating and training the youths for effective outcome after graduation.
"We are not sufficient in terms of infrastructure, we try to manage the lecture halls, learning materials are not enough, human resources and students' welfare, among others, are the problems we face in the college."
He said that the college was established to train students to become competent and professional teachers so that they can, in turn, provide knowledge to the young ones at primary and secondary school levels.
"Government should endeavour to put more effort by providing us with more funds to facilitate smooth running of the college." he added.
He urged the government to assist them in solving their problems by restoring the institution's authority to award degrees, saying that would help to boost the school's revenue.