Fuel Scarcity Bites Harder in Ilorin
Date: 2012-09-19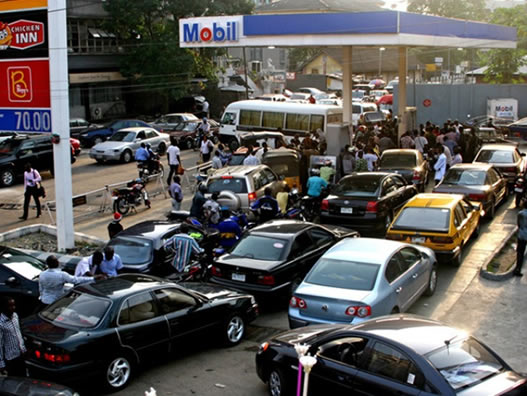 Fuel scarcity has continued to bite harder in Ilorin, the capital of Kwara State even though reports from other towns in the state such as Omu-Aran, Oro and Ajase-Ipo indicated adequate supply of the commodity, albeit at slightly higher prices.
In Ilorin yesterday, some commercial motorists packed their vehicles by the road sides due to the scarcity, while those operating charged more than 100 per cent of transport fares.
This development compelled some residents to resort to trekking while others who could not trek stayed indoors.
Some of the filling stations in Ilorin, including the NNPC Mega station along Asa-Dam Road, visited by our reporters were locked up as at the time of filling this report.
There was a long queue of motorists and motorcyclists at FOSSIL Petroleum Station, Asa-Dam Road, which was allegedly selling fuel a about 2pm.
Some of the motorists who spoke with our correspondents lamented the situation and called on relevant authorities to urgently address the problem.
A motorist, Mr. Ogunwole Opeyemi said he was going to office when he learnt there was fuel at the station and quickly drove to the place.
He said although he had spent more than five hours on the queue, there was no assurance of getting the fuel at the station.
Opeyemi appealed to concerned authorities to find a lasting solution to fuel scarcity.
A motorist, Samuel Ismail, said he has been on the queue for over 6 hours, calling on government at all levels to address the problem.
Other residents, who commented on the situation, said efforts of fuel scarcity will always bite harder on the social and economic of the society and appealed to governments to urgently address the problem.