Senator Ibrahim marks golden jubilee with empowerment
Date: 2016-12-19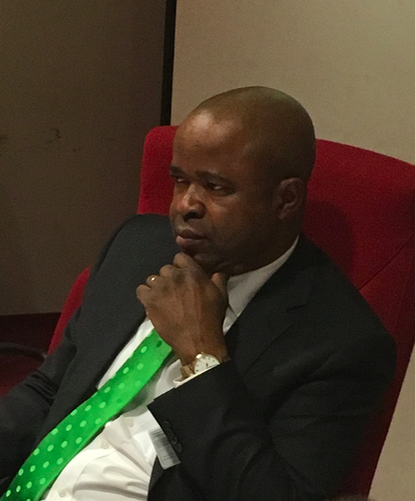 The prevalent high rate poverty afflicting majority of the citizenry like a sphinx has left much to be desired despite series of interventions across board. However, the Kwara South Senator, Dr Rafiu Adebayo Ibrahim, who turned 50 last Monday, celebrated the golden age with empowerment of his constituents. AHMED 'LATEEF reports.
Looking back, the anxiety that characterized the political climate in the 2015 general elections was palpable and gripping. This is because the events that played out among political actors gave ominous signs that Nigeria was heading to warfare.
From Kwara to Lagos and Kano to Kaduna, the pre-election pictures sent jitters down the spine of both members of the political class, especially those on the opposing camp and the electorate of what might become of the most populous African nation if those drumming war beat succeeded in stoking the fire.
In some states controlled by the opposition, the fear of losing them was discernible if the use of money, influence and state institution were anything to go by. At that time, it was clear that the election was a straight fight between the then ruling Peoples Democratic Party (PDP) and the opposing All Progressives Congress (APC).
Because of insatiable quest for power among political players, some states turned to theatre of war with deployment of guns and other harmful weapons. This alone heightened anxiety while the political scene became frenzy and charged.
And the tendency to use 'federal might' to whip in line some states under the influence of the opposition appeared to be on the high side. In this category, Kwara was not left out considering the roles played by those hitherto in the ruling PDP, which led to the formation of the then opposition APC.
Worried that things might go awry for the PDP with the way and manner the country was being run, some political leaders took the risk of forming the opposition APC even despite the fact that their coming together then was perceived and considered "aggregation of incompatible strange bed fellows". The party went ahead to win not only majority of states but also the presidential poll thereby terminating the 16 years rule of the PDP, then touted as largest party in Africa.
At the state level, particularly Kwara, the APC also cleared all elective posts in the 2015 polls. While Governor Abdulfatah Ahmed was returned for second term, Dr Abubakar Bukola Saraki (the Senate President) was re-elected Senator representing Kwara Central, and Dr Rafiu Adebayo Ibrahim and Alhaji Mohammed Sha'aba Lafiagi emerged Senators of Kwara South and Kwara North in the National Assembly respectively.
In Kwara South for instance, Senator Ibrahim, a banker cum politician, who ran on the platform of the APC trounced his main PDP challenger for the seat, Architect Lola Ashiru, in a landslide victory. Shortly after the proclamation of the eight National Assembly, Rafiu Ibrahim was named Chairman, Senate Committee on Banking, Insurance and other Financial Institutions. The rest is now history.
JOURNEY TO GOLDEN AGE
Born in Ojoku, Oyun Local Government Area of Kwara State to the family of Alhaji Ibrahim Ayinla Kajogbola and Hajia Rafatu Adunni Ibrahim (both of blessed memory) December 12, 1966, Rafiu Adebayo Ibrahim had elementary and secondary education within his locality. From a primary school in his hometown to Secondary in Erin-Ile and back again in his native town where he also sojourned in Ojoku Grammar School, Ojoku, all in Oyun Local Government Area.
In quick succession, he proceeded to Kwara State Polytechnic where he graduated in 1987 and began his banking in 1990 and thereafter became an Associate of the Chartered Institute of Bankers of Nigeria in 1995. Not done, he attended University of Ado-Ekiti in 2000 where he obtained his Masters in Business Administration.
An alumnus of Lagos Business School, Ibrahim underwent the professional entrepreneurship management and owner manager's programmes in the prestigious institution and was elected Vice President of his class OMP7.
Spurred by his performance in the banking sector, the legislator was conferred with the Fellow of Chartered Institute of Bankers of Nigeria (FCIB) in 2009 and made Chairman, Kwara Branch of CIBN same year until 2010.
As an experienced banker and financial expert spanning 15 years in banking practice, who specialized in Investment, Treasury Management and Project Finance, Ibrahim with his insatiable penchant for education, proceeded to bag PhD in Business Administration in 2009. He was also in Harvard Kennedy School for Executive Education Programme: Innovation for Economic Development in April 2016, and currently studying Law in Leadcity University, Ibadan.
However, with his transition from banking industry to political scene and with attendant rising stardom, it is safe to describe him as a man of destiny. His sojourn in politics began with his election as a member of Kwara State House of Assembly in May 2009 to fill the vacant seat of Oke-Ogun Constituency of Oyun Local Government following the demise of Alhaji Raufu Salami Lambe.
The election into the state Assembly was a prelude to his being shot into the national polity with his election in 2011 into the House of Representatives as a member representing Ifelodun/Offa/Oyun Federal Constituency. His performance in the lower chamber was unprecedented by altering political history of the constituency with quality representation. His four years in the House of Representatives also brought smiles to the faces of many constituents.
Destined for higher assignment in the National Assembly, the Ojoku-born politician was elected in 2015 general elections as the Senator for Kwara South in the Upper Wing of the National Assembly. Shortly after the inauguration of the Eight Senate, Senator Ibrahim was appointed Chairman, Senate Committee on Banking, Insurance and Other Financial Institutions. Going by his 15 years experience in the banking sector, Senator Ibrahim's appointment as committee chair was considered timely and apposite.
CURBING POVERTY
Since the nation's economy slide into recession, primarily precipitated by falling oil prices in the global arena, many Nigerians have had to contend with the untold hardship that accompanied the economic quagmire. In the last one year, inflation has been on the rise with concomitant effect on prices of goods in the market.
The ugly scenario also manifested in the labour market as major companies and industries have not only been cutting cost but also continued to downsize the number of workforce, thus compounding the horrendous situation.
Prior to the development, many employable citizens have expressed disappointment over their inability to get jobs after leaving the four walls of their various citadels of learning. The situation has become an albatross across the 36 states of the federation with punctured hope.
However, for people of Kwara South Senatorial District, all hope is not lost. Just last Sunday, the Senator representing the district rode to Offa, Offa Local Government Area with retinue of aides, admirers and supporters to dish out multi-million naira empowerment materials to three thousand beneficiaries.
Senator Rafiu Ibrahim, who chairs Senate Committee on Banking, Insurance and Other Financial Institutions was not alone from the Red Chamber. The epoch-making event, which held at Offa Descendants Union (ODU) Hall, to commemorate the 50th Birthday of the legislator and launching of Rafiu Ibrahim Bilal Foundation also had in attendance the President of the Senate, Dr Bukola Saraki; Governor Abdulfatah Ahmed of Kwara State, Speaker of the state House of Assembly, Dr Ali Ahmad; Wife of the Senate President, Mrs Oluwatoyin Saraki and a one-time acting National Chairman of the PDP, Alhaji Abubakar Kawu Baraje.
From the Senate wing at the ceremony were Senators Gbenga Ashafa, Tayo Alasoadura, Dino Melaye, Aliyu Sabi Abdullahi, Samuel Anyanwu and Issa Misau among others.
Some top dignitaries, who also attended the three in one event were the President, National Union of Road Transport Workers, Alhaji Najeem Usman Yasin; members of the State House of Assembly, members of the State Executive Council, traditional rulers, party stalwarts and family members of the celebrant among others.
The huge turnout of very important personalities at the ceremony also attested to the personality of Senator Rafiu Ibrahim in Kwara South.
Empowerment items included N50million scholarship, bursary and student school fees, financial assistance with whooping sum, donation of vehicles, tricycles, motorcycles, grinding and sewing machines and wheelchairs for disables among other assistance to the people of the senatorial district.
Speaking at the ceremony, Senate President Bukola Saraki challenged office holders to initiate empowerment scheme in their various constituencies, saying there was no alternative for them to serve people than through such scheme.
"It was high time we look beyond the objectives of making laws but focus on things that will enhance the social well being of the people through empowerment. We must make sure we find ways of addressing the tough economic situation that is facing our people that we are representing. That is why empowerment programme is very important at this particular time in supporting our people.
"As we come to the end of the year and prepare for 2017 budget, we must begin to address how to empower our people and create jobs", Saraki said.
In his speech, Senator Rafiu Ibrahim disclosed that the empowerment initiative was targeted to give back to the electorate and eradicate high level of poverty.
The legislator, who noted that his RIB foundation was aimed ameliorating the plights of the grass root whether in or out of office, said it was in partnership with Saraki Employment and Empowerment Centre to empower 8000 Kwara South indigenes.
He explained that his venturing into politics was principally to serve humanity and not an avenue to amass wealth by turning it to business affairs.
"As the past is the key to the present, so does the present remain the key to the future. My 50th year is a mark of fulfilment but the years ahead promised to be better as I remain more committed to touching lives and giving inspiration to the entire humanity most especially the people around me.
"My story could best be described as fortunate. I started my life from a humble background, in an area where farming was predominant. I started my schooling in my immediate and remote environment, though with a dream, I never knew what destiny had in plan for me as a young lad.
"Growing up was difficult but I remained focused and determined to achieve greatness. My journey into politics began in 2009 when Baba Saraki, the great Oloye, endorsed me for the Kwara State House of Assembly to represent Oke-Ogun Constituency. That day, Baba Saraki told all the stakeholders from Oyun LGA that I was one of the most trustworthy persons he had met in his life time. I was moved to tears and vowed never to disappoint my destiny which had brought me this unimaginable favour from such a man of unquantifiable and unequalled greatness.
"Behold, with his endorsement, I was elected a Member of Kwara State House of Assembly for Oke-Ogun Constituency of Oyun Local Government Area in a re-run election in 2009 after the demise of Raufu Lambe. (RIP)
"As destiny would have it, my election in to the state Assembly was just a precursor that shot me into the National politics. In 2011, I was elected into the National Assembly, as a Federal Honourable of the House of Representatives to represent Ifelodun/Offa/Oyun Federal Constituency.
"Four years later, despite the hullabaloo in the polity of our country, our Leader, Dr. Abubakar Bukola Saraki gave me the nod to consider the seat for the Kwara South Senatorial District.
"To the glory of God and the support of the Saraki political family in Kwara, we became victorious. Today, I represent the entire people of Kwara South at the Nigerian Senate in the 8th National Assembly under the Chairmanship of our Leader, Dr. Abubakar Bukola Saraki.
"Many thanks to the Saraki Political Dynasty, that discovered the prowess in me, a young man from Ojoku, a serene and quiet town in Oyun Local Government Area of Kwara State.
"As a seasoned banker, I do not consider politics a business venture but an opportunity to invest in humanity. Hence, I want to dedicate the rest of my life to God Almighty and service to humanity.
"At this juncture, I call on everyone to join me in beseeching Almighty Allah to increase His protection, divine guidance on Dr. Abubakar Bukola Saraki. May God strengthen and fortify him against all adversaries. It is my prayer to God almighty to actualise all his heart's desires. I pray to Almighty God to let me be part of the journey to the end. He remains our watchword in Kwara and we are always happy to follow in his footsteps.
"What we are witnessing here today is what we have been doing for many years but has another dimension with the birth of RIB Foundation. The foundation is targeted at giving back to my community either while in office or out of office.
"We are also in partnership with the recently launched Saraki Employment and Empowerment Centre for Skill-acquisition, Training Empowerment Programme (SEEC-STEP) of our Leader, Distinguished Senate President, Dr. Abubakar Bukola Saraki, to provide jobs for 40 thousand Kwarans.
"In my own capacity, Kwara South-STEP, as part of our programme under RIB foundation, targets 8000 Kwara Southerners in four years to reduce poverty and unemployment in line with the current economic reality in the country now.
"This and many other programmes under RIB foundation and our regular empowerment, bursary, scholarship awards, business financial supports, health bills, provision of school fees and books for our students etc are what I pray to continue to do for the rest of my life", Senator Rafiu Ibrahim said.
Also speaking, Senator Dino Melaye from Kogi West Senatorial District, described the empowerment scheme of his colleague as laudable as it was an avenue to assist the masses.
"The importance of Constituency project cannot be over-emphasized. That is the only way we legislators are trying to empower the downtrodden and make sure the masses of our constituencies benefit from the little we are getting from the National Assembly.
"I'm particularly impressed with the arrangement here today and for him (Senator Rafiu Ibrahim), its double celebration, because he is celebrating his 50th Birthday and at the same time he is empowering the people, because democracy is about the people, it is about empowering the people, making them happy and giving back to the people who elected you and I think that is what Senator Rafiu Ibrahim is doing, and I congratulate him and his constituents", he said.