Mrs Omolewa Ahmed adds another year
Date: 2015-01-01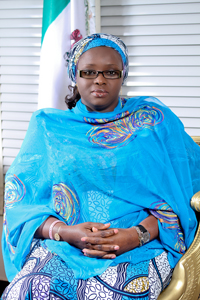 A day after her husband, the Executive Governor of Kwara state, Dr Abdulfatah Ahmed marked his 51st birthday, wife of the governor, Mrs. Omolewa Ahmed added another year to her age.
Mrs. Omolewa is an epitome of values, renowned for her compassion and passionate urge to affect positively everybody and everything she has an opportunity to come across. Her disciplined disposition, focused mindset, strength of character and attention to details is legendry and that enthuse people who meet her.
Her Excellency, Mrs. Omolewa Ahmed who hails from the ancient city of Ibadan, was born into the family of Mr. and Mrs. Adebayo Akinleye in the city on the 30th of December.
Drawing from her experience as a young Nigerian who saw people in need and indigence at close quarters, she considers the position of the wife of a Governor a privilege and a unique opportunity to positively affect lives.
She started her education at the University of Ibadan Staff School and later proceeded to Victory Nursery and Primary School where she obtained her Primary School Leaving Certificate.
Her Secondary School education was at the Prestigious Saint Teresa's College, Ibadan where she obtained Secondary School Certificate with good grades in 1983.
She then advanced to Kwara State Polytechnic where she obtained an Ordinary National Diploma (OND) in Banking & Finance in 1992, before obtaining a Higher National Diploma (HND) in Banking & Finance from the Kano State Polytechnic in 1997.
During her one-year stint as a National Youth Service Corp member between 1997 and 1998, she served at the Central Bank of Nigeria, Kano, where most of those who met her still relish her dedication and diligence.
Her strong thirst for knowledge also saw her at the esteemed Bayero University, Kano in 1999, where she obtained a Post Graduate Diploma in Banking & Finance. Her Excellency, Mrs. Omolewa Ahmed has always made a success of every endeavour she has ventured into; through Cabes Trading and Marketing Limited with vast interest in Catering, Events Management and Commodity Trading her knack for success has grown her dream of being a successful entrepreneur into a conglomerate.