I prayed to be like Baba Saraki - Smart Adeyemi
Date: 2012-04-15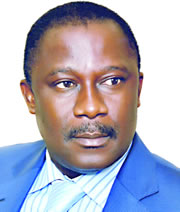 Senator Smart Adeyemi is one of the notable actors on the floor of the Upper Chamber of the National Assembly. AYODELE ADESANMI, in this report on a meeting with the senator, examines some of the qualities that make Adeyemi tick.
The masses of this country need to worry less about how they would pass their demands to the people in the corridor of power and how their grievances would be addressed as currently, they have an elected representative at the Upper Chamber of the National Assembly who is daily informing his colleagues that he is standing on behalf of Nigerian masses. Anytime he is on his feet trying to contribute to the motion of the moment before Senate President David Mark, he does so always on behalf of Nigerian masses.
Even David Mark has recognised this unofficially as he always says: 'Smart Adeyemi, the leader of the masses.' Though Smart Adeyemi is representing Kogi West Senatorial District for a second term, his other people he is representing and always ready to defend are the masses of this country and he has expressed the belief with them, he has a life partnership.
"Mr. Senate President, my name is Smart Adeyemi. I am representing the good people of Kogi West and the masses of this country" is always his way of introducing himself before making any contributions on the floor.
Observers have, however, been wondering why Adeyemi has chosen to represent two Districts  —Kogi West and 'the masses.' Adeyemi said what informed this was his background which he said was modest.
"l say this anytime I rise at the National Assembly, first to remind myself of my background and as a Christian who believes that God created every one of us equally and all of us deserve the basic things of life, irrespective of where you are born or your calling. Equally, I believe that every Nigerian deserves three square meal, a roof over his head, health facilities and above all, to be happy. And all of these could only be achieved, if the state rises up to its responsibilities," he said.
To Adeyemi, he is still a practicing journalist, though a legislator, as he said that he was not a politician.
"Many of my people don't believe that l am still one of them. I am proud to say it that l am not a politician." To confirm this, journalists are always welcome in his office at anytime as he has instructed his aides that they should not stop any journalist from having access to him. He even extended it further; in his house, a section is specifically set aside for journalist on a visit. It has been comanded that nobody should accommodate persons of other professional ilk there, inasmuch as a journalist is around.
He insisted that "without journalism, l would not be where l am today. What brought me to limelight is journalism profession, especially the role I played during the time l was Nigeria Union of Journalists (NUJ) president. That time, I took so many risks, especially under the administration of General Sani Abacha. I thank the people and I appreciate journalism profession as it is the platform I climbed to the Senate.
"Unfortunately, today, some people are classifying me as a member of the ruling class, which I am not and I don't see myself as such, but as a journalist who is in the midst of the ruling class. Besides, I don't want people to refer to me as a politician because they have concluded that all politicians are corrupt."
His background as a journalist and his beliefs that there must be good governance and that human rights must be guaranteed are those things that inspire him to always remember the masses and that he is representing them.
He said; "I don't want to betray my background and I don't want a situation where it would look like I have forgotten where I started. I did not know the extent of the gap between the poor and the rich until I joined politics. It was then that I realised the high level of poverty in our nation and I equally realised that some people are super rich and far richer than some states of the federation. The resources available to some individuals are so enormous that I believe that there is a need for a new social order.
"Therefore, any time I stand up to speak, it always occurs to me that the masses are there and we must not forget them and I don't want to forget them anytime, not even with the slogan of the Peoples Democratic Party (PDP), 'power to the people' which is always in my mind. Honestly, it was that slogan that attracted me to the PDP which, today, is the only democratic party in the country."
Adeyemi expressed the belief that the only way he could show appreciation "for who I am today," is to continue to champion the cause of the welfare of average Nigerians, irrespective of their tribe or religion "because I am committed to justice, fairness and equity for average Nigerian, irrespective of where they come from. I want to consistently remind myself that there are millions who have not the opportunity to be where we are, which is to me the essence of politics."
One would then ask whether his humble beginning was responsible for his stand on issues. His would narrate that his father was a locomotive driver, popularly called Baba Smart, while his mother was a petty trader. The family then was in Bida in Niger State, where they all lived in railway quarters.
According to him, "I grew up in the railway quarters and most of the people who lived in the quarters are believed to be middle class. But in my own case, we are not, as my father did not belong to middle class in terms of social classification. I grew up to see poverty, but not at the level in which I am seing it now.
"When l was growing up as a child in the Northern Region, we used to have certain facilities free. As children, we could afford three square meal, but this depended on what you were eating. I grew up not too far from poverty, seing my parents struggling to make ends meet as my mother was a petty trader."
He, however, had it behind his mind that he would fight for a new social order when he grew up.
Adeyemi would have participated in a coup, if he had joined the military, to realise his aim, but he failed in that area and realised later that there are other endeavuors where one can fight for new social order.
"This my radical disposition is inherent in me as I have considered that there must be a change because of my exposure to poverty and the agitation started when I was in primary school. That is why I ask; must some people have three cars and some none? Why is it that some people are extremely poor in a nation where some people have already built financial empire and have amassed enormous wealth for their great grandchildren yet unborn?"
As a student, he continued; "my parents couldn't pay my school fees conveniently because they had to wait until father's salary is paid before my school fees and those of my brothers and sisters would be paid."
Today, because of the pains he went through with his parents, Adeyemi feels for people, especially "when I see them going through what I had cause to passed through as a child. But l am more passionate about it today on behalf of the masses because I have the exposure that there are more than enough to go round everybody."
Last year, Senator Adeyemi worked on a bill which advocated for life imprisonment or a capital punishment for corrupt people, expressing the belief that this is the only way to stop corruption in Nigeria. He disclosed that "I feel that there is corruption in every facet of the Nigerian society; that despite efforts of the present government to stem the tide, it seems nothing is being done. Unfortunately, when people have already imbibed that in their system, four years would not be enough at all and it would seem as if no effort is being made. But l believe that there is need for us as a people and as a nation to start looking at ways we can review the provisions in our statute books as they affect corruption in the country."
So many people have benefitted immensely from this senator's kind gesture as he said he did not like people to experience what he went through when he was young.
He said "I normally feel that I lost something, if in a day, I could not assist people, because doing that, I feel happy and there is inner satisfaction. The feedback I receive and the testimonies I hear are satisfying and they encourage me to continue because of the biblical injunction that says of people who help the poor; that God would deliver them in the days of trouble. Those are some of the bible verses that help me as a legislature and I have very strong conviction that both the rich and the poor would give account of themselves before God one day."
One of the people in whose footsteps he is following in the area of giving and politics is Dr. Olusola Saraki. The man, according to him, really influenced him and he could confidently say that he is his role model. When he was in the secondary school, the man came to his school and made a donation of N10,000, an amount of money that can be compared to about N10 million today.
He recounted; "one day, I prayed that God should help me to be like Baba Saraki who was always helping people. When I later settled in Ilorin, I would go to his house and see many people on queue to see him for assistance. One day, I prayed that God, if You help me, l would be doing like this to people and helping the less-privileged.
"When I wanted to join politics, I asked him what his success secrets in life and in politics were. He answered that 'the people I help are my strength and the people you see in front of my house that I assist always pray for me. That is why I am where I am today.'
"He added that 'if you want to be in politics, ensure that you provide water and food for people, especially the youth and women.' I adhered to this strictly. I have never seen any politician who behaves like him as he gives to a fault. Saraki is a giver and I pray to God to give me the resources to give like him; or even more than him. I see him as a role model. I give not because of politics, but because it is good to give; it gives me joy and the best way to make life going is to give. I do give because of my personal conviction, especially when I give to people who are extremely in need. I sincerely thank God for positioning me to meet people at the very point of their need. To me, that is why I am in politics. I will continue to identify myself as an advocate for the masses."
His wife, unlike some other women, has not been a barrier to his love for assisting people.
"My wife met me with this approach towards life and she appreciates that giving has really helped us this far and at this point, we can never stop and she even encourages me to give more. Giving is like a religion and so far as you are addicted to it, you can never stop it and the day you don't give, one can become sick. I am ready to commit all that I have to state, if there is assurance that there would be equitable distribution."
The people of his constituency are not left out as they have equally benefitted immensely from the philantrophic gestures. According to him, medical equipment coming from abroad would soon arrive the country. The equipment are "for my people free of charge for hospitals in Kabba, Yara and Egbe. I am currently building a stadium in Kabba and Yara. I have built lock-up shops in Yara and Egbe and built a 1000-seater auditorium for Koto Karfe. I have distributed 100 cabs as empowerment scheme with over 100 motorcycles. I have presented over 25 SUV jeeps to traditional rulers and party faithful and I sincerely hope to continue. All these I started a long time ago and I have tried my best to show love, understanding and affection over the plight of poor people and the less-privileged. The best security is the people and I can't do without them. The regret I have in politics is the belief of the people that everybody wants to amass wealth. As a Christian, I am guided by biblical injunctions and I know what the bible says about life and death and I know for sure that this life is about living well and taking care of others and that is my philosophy. The gap between the rich and the poor is so wide that I think that I can just wake up and close the gap."
The man has not foreclosed the possibility of forming an association of those who are passionately committed to the cause of the masses, insisting that he does not want it to have a political colouration. His aim is to have a place "where the masses could openly express their feelings without resorting to violence and I have already written a letter to the Minster of Federal Capital Territory (FCT) that we need some acres of land where people can go and abuse anybody and express their feelings with opportunity for media men to be at such proceedings. l would call the place FREEDOM SQUARE as anything you say there is free and nobody would have the power to arrest you. I am already working on a legislation. I am sure that some people would say it does not make sense, but it makes a lot of sense because people would hear what you want to say."